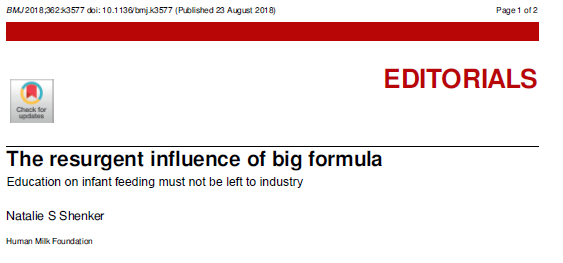 The British Medical Journal, a high-impact medical journal in the UK, commissioned an editorial from Dr Natalie Shenker of the Human Milk Foundation regarding the recent activities of the US administration at the World Health Assembly earlier this year. The editorial, published yesterday here, challenges the lack of independent, non-industry funded medical education, and calls for doctors to advocate for breastfeeding.
Natalie concludes: "The time to act on infant feeding is now, with investment in independent medical educational programmes, medical advocacy for BFI training, and up-to-date information on prescribing, underpinned by research to address knowledge gaps. According to the 2016 UK National Maternity Review, 90% of mothers stop breastfeeding before they have met their goals. Doctors need to advocate for breastfeeding, so another generation of mothers and babies are not failed."
With your support, we can make this vision a reality. Please donate now to support our work.
You can read the full text below, with permission from the BMJ: