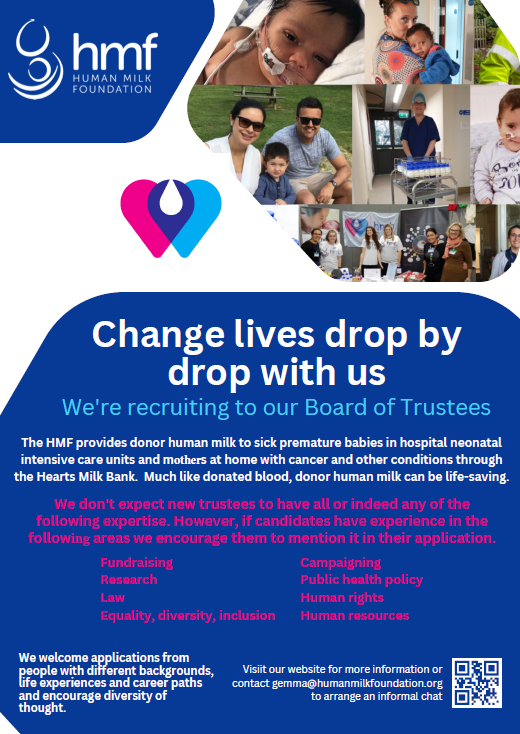 We welcome applications by 23.01.23.  If you'd like to find out more please contact Gemma, HMF Trustee, or Natalie, Director of the HMF. We would be grateful to receive an application with your CV and a covering letter or short video to trustees@humanmilkfoundation.org.
We understand you may be combining your trustee role alongside a busy working and family life and we will support you to do that.
What does it mean to be an HMF Trustee?
"When I first met with Natalie in January 2020 to discuss becoming Treasurer, what struck me the most was the unique vision for both Natalie and Gillian and the incredible energy underpinning making that vision a reality. 2 years on and after a global pandemic, what has been achieved has been phenomenal and the transformation has been remarkable. I am proud to be able to contribute to this amazing journey."
Andy Hodge, Treasurer

"With such a clear vision, built on an evidential basis and the drive to help as many families as possible, I couldn't resist becoming part of the HMF and am enormously grateful for the opportunity to be part of an incredible team."
Tina Crombie, Trustee
"This is a cause close to my heart but it's especially exciting being involved in a dynamic ambitious charity that has big goals and exciting ideas about how to make them happen."
Emma Pickett, Trustee
Dr Gemma Partridge, Trustee